September 2021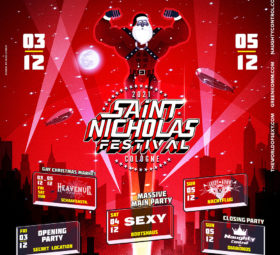 Do, 30. September 2021
3 Day ST. NICHOLAS FESTIVAL Cologne 2021 is coming ! Good Morning all you SEXY GUYS Let's start this wondeful day with the official launch of the stunning artwork of this years massive 3 Day ...
September 30, 2021
---
Mi, 1. September 2021
300 ERALY BIRD TICKETS SOLD OUT WITHIN 1 DAY! SOLD OUT WITHIN 1 DAY! No more Early Birds available The run on tickets for SEXY PARTY Cologne's hot St. Nicholas Edition on Sat Dec 04 ...
September 01, 2021
---